Hello and welcome to the CLN podcast. Episode 13 has a very special guest, the lovely Carol Feller. Carol chats with me about her new yarn Nua, Edinburgh Yarn Festival and a little bit about her design and creative process. I really hope you enjoy getting to know a little bit more about the lady behind Stolen Stitches.
It's time for you to put the kettle on, grab your knitting and make yourself comfortable. Today's show is a fun filled 50 minutes, so sit back listen and enjoy this wonderful interview.
You can also find the podcast on iTunes, TuneIn Radio, Stitcher, Player FM or Download Now. While you're having a listen, why not leave a review and let me know what you think!
Nua
Carol chats about the importance of the weight of her Nua yarn and why the inclusion of yak and linen was so important in the Nua blend. While chatting about the yarn itself, Carol talks in-depth about the ply and dye uptake and how a chance conversation led to a two-year development and finally to the launch of Nua. She also shares with us how the colour palette came together and just where those interesting colourway names came from. If you are dying to get your hands on some Nua, you can find Nua yarn online here.
Russler Shawl in Bloomsbury DK (Photo credit C. Feller)
The Yarn Collective
During our chat, Carol mentions how The Yarn Collective collaboration came together with a focus on designer based yarns. The other yarns in the collection are Portland lace with Melanie Berg and Pembroke Worsted by Bristol Ivy. Find out about the yarn itself and how this colour palette came together, the importance of her mood board and why semi-solid colours won out here in comparison to her Nua collection.   You can, of course, find all of the gorgeous Bloomsbury DK Colours here.
Creative Process
On today's show, Carol also chats about what it's like to be a designer and the effect on day to day life. During our discussion, Carol mentions this wonderful post from Woollywormhead: Thoughts on Turnover, Business Perspective & Why We Shouldn't be Comparing Apples and Oranges. Carol also tells us a little about how her business has grown and how she deals with feedback and the online community.
If you want to follow what Carol is up to next you can sign up to her newsletter here, you can find her on Instagram, Facebook and Twitter and of course on her website Stolenstitches.com. Carol has also given the listeners of the show a 20% discount on the digital copies of her latest Nua Collection Vol 1 on either the single patterns or the complete collection, just use the code cottagenotebook here on Ravelry.com. 
MKAL, Mentions and Podcast Music
The CreativeME podcast can be found here on www.martineellis.com. Martine has a fantastic blog and podcast all about the creative process along with some fantastic guests on her show like Elna Cain and hits and tips for business and also a wonderful community over on facebook here. In this episode, I join her to start a discussion on feedback & criticism and I would love to find out how you deal with it too. Find the episode and more great podcasts here. 
On today's show, I also have the final MKAL update. The skeins have landed and for those asking there is an audio group on Ravelry here and the hashtag for the KAL is #SSkein For those of you asking about yarn, you can pop over to the Ellie and Ada Etsy shop and use the contact button to drop Laura a line and she will do her best to help you.
The music for the podcast has been provided by Liz Seaver and you can find more from here on lizseaver.com.
Thanks so much for listening!
Nadia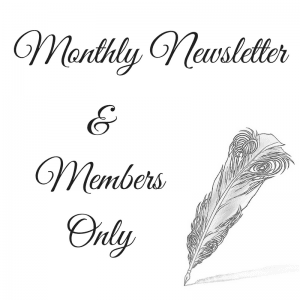 If you would like to keep up to date with everything from the Cottage Notebook you can, of course, do that here