This post is part of my Handmade Wardrobe Series
Have you had handknits go wrong while knitting them? I thought long and hard before I wrote this post and from the title, you can imagine that I don't love this knit but this requires more explanation. Firstly, there are different types of knitters. Those that knit for the finished object and those that knit for the enjoyment of knitting. For the latter, it is all about the process of making. People often switch between the two depending if they want a relaxing mindless knit or if they are up for a challenge or want to increase their knitter skillset.
Abalone for me was a project that started way back in September 2011  because I fell in love with the Garnstudio Alpaca yarn in the denim colourway. I love the subtle hot pink that is worked into the fibre and how it works up in stocking stitch. In 2011 I wasn't a mum and I found the mindless stocking stitch boring and so the project languished in a project bag for…cough… seven years.
The reason Abalone went from a languishing work-in-progress to back on my needles was I needed that mindless knitting. Something my hands could fall back into. I don't recommend knitting alpaca in the heat but as this was a 4ply yarn and light to sit in my lap I found just working back and forth on my needles to be reassuring and got me back into knitting after having to stop because of RSI.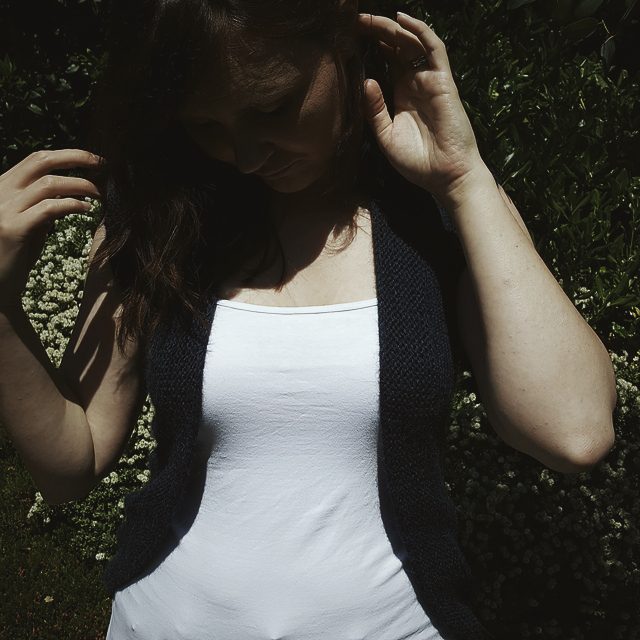 This pattern is written by Beata Jezek of Hedgehog Fibers and it is really more of a guide. It's worked from the bottom up and has an interesting yet relaxing (some will say boring) construction. The rounded bottom is shaped before working the entire length of the back in stocking stitch before working the shoulders and then grafting the shoulder seam together. You then knit the band of the cardigan and you are done. Simple?
In those seven years (seriously!) my shape changed but I had already reached the lower back of the cardigan and so I kept going forgetting completely that this stitch count was also going to make my sleeves. Though I still have the same size clothes as I did back in 2011, I do have a bigger chest measurement which meant that somewhere in this pattern I should have added about 2 inches of ease but I didn't. Also back in 2011, I didn't mind short sleeves whereas now after two babies I do. Surprisingly though my tension had not changed that much in all those years!
This pattern is perfect for showing off variegated or speckled yarn, it's a pattern that truly allows the yarn to shine and as a lover of hand-dyed yarns, I should love this pattern. After wearing this cardigan on and off over the summer I realised that I actually don't like open front cardigans. As I wear most of my cardigans open I thought I would enjoy this but the scooped back pulls the cardigan open further so the only way that I would wear this was if I knitted this again but 2 sizes larger. The entire garment drove me crazy to wear.
Firstly, let me say how much I love this yarn! The shades are to die for and the price range means that it is accessible to everyone. A garment is not going to break the bank and I have a soft spot for Garnstudio yarns. My favourites being Nepal and Lima as I'm a fan of DK and worsted weights. The wear well and wash well and there isn't a colour problem. If you want a decent solid colour yarn that is hard wearing yet soft I usually start here. I'm not giving up my love for hand dyed yarn or Malabrigo Rios but certain projects call for more rustic yarn. Also, I knit for my children a lot and if I only use hand-dyed yarn it becomes pretty pricey and they outgrow them at a fast pace.
When Knits Go Bad
Handknits will go bad for a number of reasons for example wrong yarn and pattern combination, not swatching, not blocking your swatch or tension issues to name a few. Here it was 50% my fault for leaving the project languishing and 50% pattern. When you leave a project for so long especially a garment you will probably have tension issues and sizing issues here my body had changed and in reality, I should have increased somewhere around my chest region.
In saying that the pattern doesn't allow for working increases that is all up to you as the cardigan is designed to have an open front. I found that it bounced between my underarm and chest which in turn pulled the cardigan more towards my back and really just flapped around and annoyed me. This is definitely a pattern that is best worked in a larger size to allow those shoulders to dip a little lower. I will probably make another but with quite a few amendments.
Have you had had garments go wrong while knitting them?
Let me know in the comments. I'll make a cuppa and come and join you in there.
I'll be back with another Six on Saturday post this weekend and if you want to hear more from me then please pop over to any of my social hangouts (Twitter, Facebook, Instagram) you'll find me as @cottagenotebook or use the social links to the right (desktop) below (mobile/tablet)
xxx
Want to support and Blog or Podcast?
You can with a Ko-Fi or join the community on Patreon!
If you liked this post why not share with others by clicking the share buttons below!!