As soon as there is a chill in the air in the morning knitters get excited. Knitting season is well and truly here, though, for some of us it never really got warm enough to disappear this year. One of my favourite things that happen in autumn are the knit-alongs that happen over on Ravelry. I have picked up my needles for two already and I'm slightly nervous as to whether I will finish on time. So, for today's post, I thought I would highlight a few so that you could join in too! There are a few reasons why I love them so much:
Why Join A KAL
I'll be brief. There are a few reasons why I love them so much:
You meet wonderful new knitters.
The different yarn choices and colours are always inspiring.
I always pick up a few helpful hints/tips and the odd technique if I really push myself.
They help to move that work-in-progress on your needles to a shiny new finished object that you can wear with pride.
I usually laugh an enormous amount and this will lead to a few dropped stitches but it's worth it.
If you have never knitted a garment before the support of knitting it with a few other knitters can help you complete it instead of being stumped and leaving it on the needles.
With Mystery KALs; I like the unknown element for accessories and seeing the project grow before my eyes.
If I sit here for a while I could probably double this list but I'll move on to what is happening over on Ravelry right now in case you feel like you could use the support of the online craft community. Some of these have started but it is never to late to jump on board and join in.
Boo Knits Halloween KAL
I love the shawls by Boo Knit's and I think my very first shawl that ever graced my needles was her Dragon Fly Wings pattern. If you want to take part in a Halloween themed MKAL then pop over to the Boo Knits group on Ravelry. This is a pattern for a beaded lace weight shawl and began on October 1st  with the last clue going live on October 16th.
Price: 4.50 GBP (a little over $6 USD)
Camira KAL – Caro Feller
I love Carol's garment knit-alongs and yes this is my own opinion. This takes place over on the Carol Feller KAL board on Ravelry and I usually see the same welcoming knitters popping in and out of the boards. The boards can move a bit quick sometimes but everyone is incredibly helpful. This year for some reason I started and finished clue 1 the day after it was released so I'm hoping to have a new cardigan by the end of October but I will need the support of everyone in the group to get there. Camira is an aran weight cardigan and the pattern comes with an exclusive 15% discount code for Blue Moon Fiber Arts for the sweater yarn and the last clue is released on the 11th of November. Price: €6.00 (about $7.30 USD)
Knitworthy – Ysolda Teague
The Knitworthy KAL is in it's fourth year and it kicked off on August 28th but continues right through to the 4th of December.  The Ysolda's KAL group on Ravelry is always fun to be around and there is nothing like the support as you work through your knitted gift list. This year Ysolda is paying it forward and donating 10% of sales of the collection to a different organisation every 2 weeks. You can find out where the current donations are going to on her site here. The KAL is priced at £14.00 GBP about €16.19
Woolly Wormhead's Mystery Hat-A-Long
Now in its 10th year, the mystery Hat-A-Long from Woolly is always fun and surprising. This year there are two hat options A and B and if you buy both patterns you do receive a discount. Both patterns  also come with a discount code for the yarn required. You won't want to miss out on the fun on the KAL board here and this year I am doing Hat A (and possibly B but lets not get carried away) The first clue is released on the 1st of November with the final clue on the 29th of November. Price is €4.37 (about $5.00).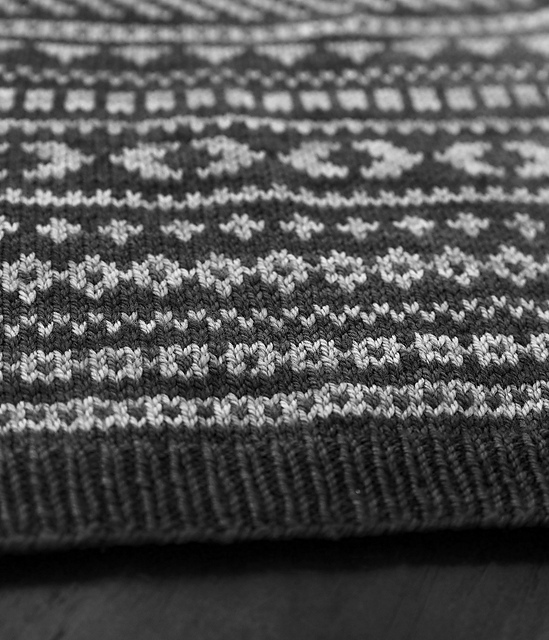 Strange Brew KAL – Tin Can Knits
Who doesn't love a Tin Can Knits pattern? This year Alexa and Emily have devised an ingenious KAL where you can design your own fair isle yoke swear. To find out all the information pop over to their blog post here. Strange Brew is a bottom-up sweater, designed for DK weight yarn in 25 sizes for babies, children, women, and men. This KAL takes place over on Facebook here, they do also have a Ravelry group here but support and the chatter are over in the facebook group for this one.  Price: $8.61 USD about €7.53.
Westknits Mystery Shawl KAL 2017
I couldn't finish a KAL post without mention West Knits. The Speckle & Pop KAL started on September 29th but continues on until the last clue release on October 20th. The KAL takes place in the West Knits MKAL 2017 group here. The shawl is fingering weight and requires 3 main colours 100g each and 5 contrast colours in smaller amounts. You can find all the details here and I imagine this shawl is going to be BIG! These KALs are always hilarious and the boards do move quickly and it spills over onto Instagram with hashtags. This one is perfect for those stash skeins of Indie sock yarn.   Price: $8.61 USD(about €7.53).
Am I missing your favourite KAL? Pop it in the comments so we can find it too. Do you take part in KALs or do you shy away from them? Let me know in the comments. I'm off to stash dive!
xxxxxxxxxx
Want to support and Blog or Podcast? You can with a coffee!