It's the first weekend in March so I thought I would share my planner with you all. How are you all getting on? Have you been using a planner/journal yet this year? Have you been using it for craft/knitting? Please let me know if you have and how
I seem to have re-entered my black phase and kept my watercolour to my watercolour pad and just used some of the Faber Castell watercolour pencils. I have a complete list of materials I used at the bottom of this post in case you are wondering.  So let's have a look at the set up:
The March cover is a black and gold peacock feather with some er, questionable lettering with the dip pen. I really didn't want to redo it so I just left it. The calendar spread below is pretty minimal. I kept one of the art pages as a right-hand side cover with the calendar as blank as possible as it gets filled out as the month progresses. I use a traffic light system and keep everything pretty small or in shorthand so one page is enough for me for the month.
Because March is Edinburgh Yarn Festival Month, I'm going to be pretty busy so I went straight into week 10 and week 11 setups and I've changed my layout from a boxed layout to a traditional diary style.
Week 10:
I was doodling as my kids were playing and this is the spread that came out of it.
"I wish I may, I wish I might have this wish, I wish tonight"
Week 11:
I had this idea with falling feathers and I came across one of my favourite quotes from Douglas Adams while cleaning out my office space and it always makes me smile so I popped it in with the theme.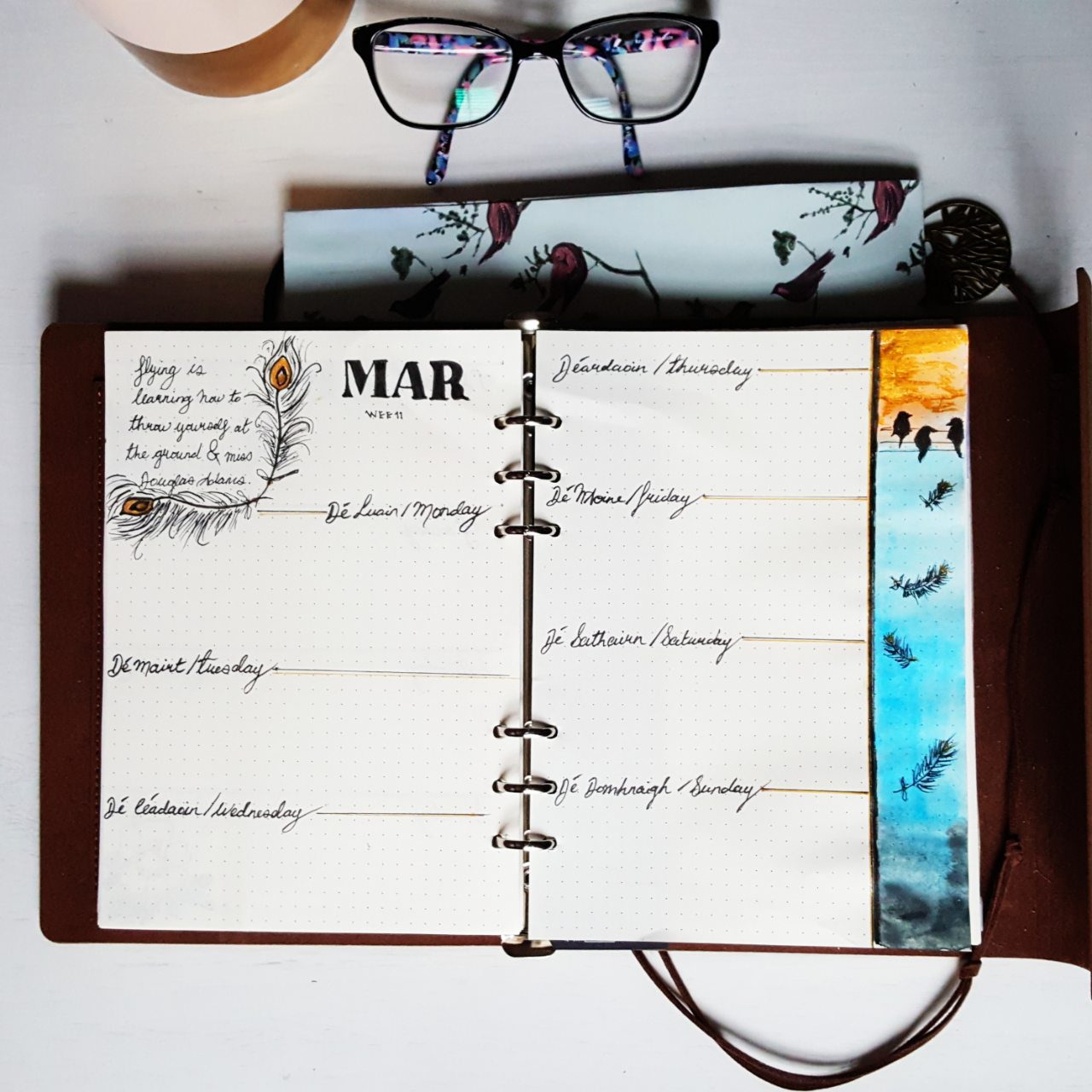 I will say that the ghosting is the reason why I haven't used these type of spreads in this planner before as you really need to glue 2 pages together to get the paper thick enough. I do love that I can swap in and out pages as I'm working but hitting the rings when you are drawing or writing is really annoying and the main reason why I swapped away from a ring planner at the start. As I usually have different paper for sketches and painting, I do like being able to put them all together in sequence. Some times I'll use toned paper or thick watercolour paper as a little illustration to my journal or a story I'm writing and I love being able to slot it in place. Is that worth having a ringed planner? I'm not so sure I may take out the rings and turn this into a notebook cover. Time will tell.
Materials
(This section contains affiliate links. ) This month I stuck with my YHH planner and I'm still using the dot grid paper that came with it. I've been bouncing between painting with watercolours and using the Faber Castell Watercolour pencils. The pencils have allowed me to have a watercolour effect but on paper that wouldn't normally work with paint. My sketch paper is the Faber Castell Mixed Media Pad that the calendar cover is worked on. The pens I use are the Uni Pin fine liner in grey (0.5) and the Edding 1880 Drawliner (0.4) and (0.2). I also use the Pilot G1 in Silver and Uniball Signo in gold.
And now you have all caught up with me. My creativity seems very much to be lost in sketching at the moment or small quick little illustrations. I'm looking at having a more focused journal and then a focused art journal with bits of my art creeping into my journal. I don't think that I could ever have one of those amazing Instagram or YouTube journals but I would really like to have a journal that felt like me. As pink and grey seem to be taking over my life at the moment both in watercolour and textiles it's nice to have something bold and black again.
What's your favourite type of spread? Is there something that you absolutely have to have when you set up your journal each month?
Thank you for reading and I hope to catch up with you again soon.
Much love,

Want to support and Blog?
You can with a Ko-Fi or Follow me on Bloglovin.
If you liked this post why not share with others by clicking the share buttons