On the August bank holiday, Yarnfolk Festival of Wool took place in Whitehead, NI. It was smack bang in the middle of our holidays so of course, that meant that I had to go with the lovely Yvonne from Dublin Dye. I will, of course, be sharing a post with some vendor images and more on the festival but people have been asking over on Instagram what I came away with so this post is all for you!
In true Cottage Notebook style, I went to the beach for a photo shoot with the toddlers so I hope you enjoy my stash images: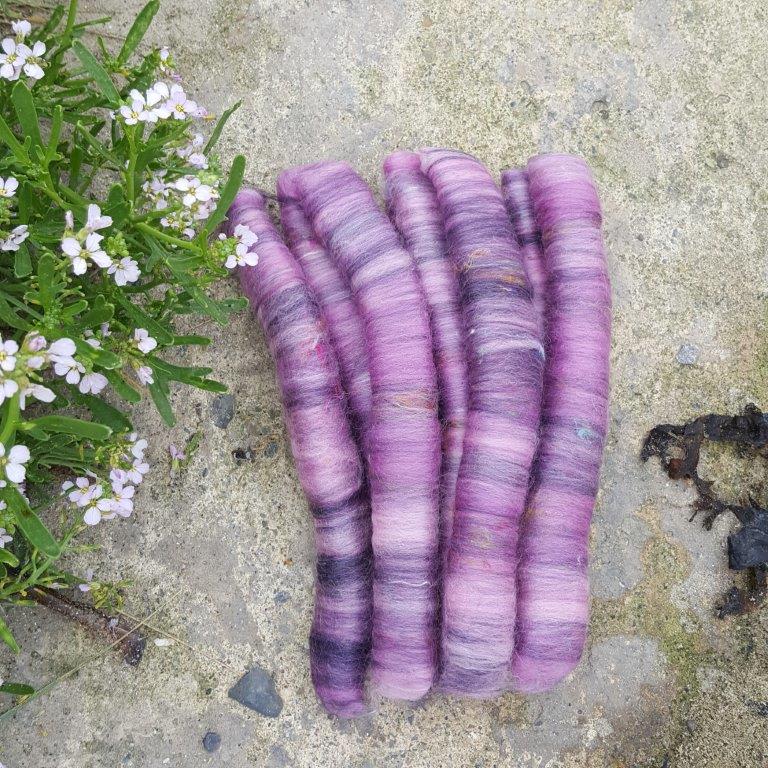 First up are some beautiful rolags by Helen of Pretty Funky Fibre. I love how Helen blends and makes the rolags and I fell in love with these the second she posted about them on Instagram and so I tracked her down at Yarnfolk and nabbed a packet for myself. They are Merino, Sari Silk, Angelina and Tencel. Oh, my drop spindle is going to be a happy this week.
Of course, I couldn't come home without some Dublin Dye and this is Yvonne's Silken Lace in Blush. It feels amazing and is 55% BFL and 45% silk and my plans are to hold this double and to make something I saw in Laine magazine and I'm keeping that quiet for now. I know what you are thinking and yes, the yarn loved being at the beach 😉
Next up I was gifted this beautiful project bag from the lovely Fay of  Knit it – Hook it – Craft it.  It is actually part of a kit but I don't sew and I was trying to decide if I could just talk Kay into selling me just the project bag because I thought they were beautiful with just the machine embroidery. You can find these beautiful kits in her shop which is full to the brim of gorgeous craft supplies and accessories. I love that she supports other makers and I have to admit I took tonnes of photos of her gorgeous stand at Yarnfolk too.
So, I have had this burning need for some of Emma's yarn (Woolly Mammoth FIber Co.) and I had to try twice to get to her at Yarnfolk but I finally did and I swiped some of her BFL/Gotland 4 ply in Peony for a Little Twiggs sweater. You may have seen it on her Instagram but I fell in love with it and so it's going to be my garment for this winter after I get my current wips off the needles. G'wan pet the screen no one is looking.
So this brings me to my final stash acquisition which is actually 2 separate purchases from Irish Fairytale Yarns. That gorgeous hot pink and those two dark purple skeins are actually a DK weight and are a merino silk blend. The other two skeins are 4 ply. A sparkle sock in Maleficent and it's plain sock version too. I couldn't help myself when I saw them. Indoors these yarns are a bit darker and more purple than blue but outside at the beach apparently the blue within the fibres wanted to sing to the sea. I was half toying with shawl ideas but my daughter has fallen in love with the DK so it may end up being a sweater. Any ideas or favourite toddler knits please let me know!
I will be back with some videos of Yarnfolk and a look at stall vendors and a quick YouTube video too. I was waiting until I was back from holidays before firing up the laptop too much. Please click through the links and find these lovely vendors over on Instagram and say hi from me. I wish I could spend more time with everyone. The next show I am off too is Yarnporium in November and I'm trying to decide if I need to bring a suitcase hmmm…I may need an extra seat on the flight home just for my yarn…
Want to support and Blog or Podcast?
You can with a Ko-Fi or join the community on Patreon!
If you liked this post why not share with others by clicking the share buttons below!!