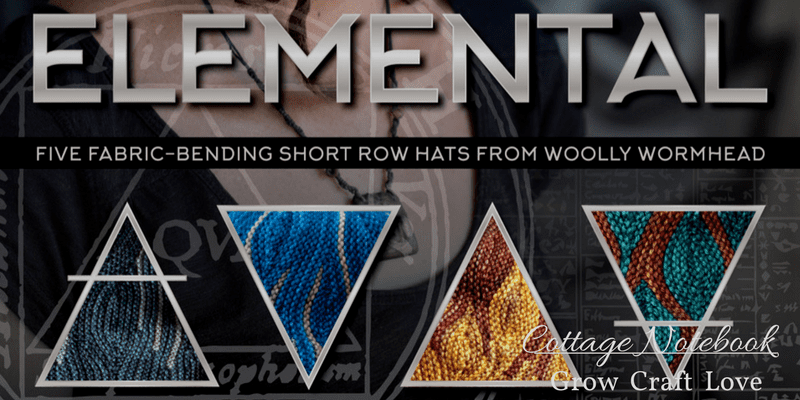 Today's interview is with none other than our favourite Hat Architect, Woolly Wormhead. Woolly very kindly took some time out of her busy schedule to answer some questions on her new Elemental Collection that has just been released.  For those of you who follow Woolly and have seen her beautiful Instagram feed and those intricate hat designs, I know that you can't wait to find out just how this collection came together along with the story behind the mysterious yarn bending!
Hi Woolly, welcome to the blog! First, can you tell us about the Elemental Collection?
Elemental is a collection of 5 Hat designs – each Hat is inspired by an element, with of course the 5th Hat being the 5th element, or aether/balance.
The Hats are knitted sideways (which is probably my favourite construction method, and what I'm known best for!) with all the shaping and the colourwork being created through short rows.
The eBook brings all of the patterns together with amazing graphic design and layout done by my friend Zab. You'll also find thorough in-depth photographic tutorials for all of the techniques, which really help. The single patterns include illustrated tutorials, too, so you get what you need whichever format you go for. With this collection, I needed to develop a new way of presenting the instructions, and although at first, the panel maps seem a little complicated or intimidating, knitters have commented on how well they convey the multi-directional knitting. Everything is explained within the patterns, I promise!
Can you tell us how The Last Airbender inspired the collection and what are the key concepts with the 5 beautiful designs? 
The Last Air Bender is a brilliant animation that's also centred around the elements. The key concept is that each of the main 4 elements – earth, air, fire and water – is a nation and world peace is maintained by the avatar (who is essentially the 5th element). Within each nation, there are a number of benders – masters of their elements – who are able to manage and control the elements for purposes of good. It's that manipulation of the element that I wanted to convey within the designs, as well as aiming for balance within the fabric.
Aran, my son, is a *huge* fan of Air Bender (as is my partner, to be honest) and I've no doubt absorbed much more than I realised – I was surprised how quickly the idea of working with the elements came together! They both helped me with the names (all female characters) and it was amazing to see how well each name suited the Hat – the personality of the character can be seen within the design.
Which leads me to ask what exactly is Yarn Bending?
Well, yarn bending is a bit like air bending or water bending – it's taking control of the yarn and manipulating it into different directions or contours! This is achieved sideways with short rows, and the effect the short rows create, especially in two different colours, resembles the visual effects of element bending in the Air Bender animations. It's incredibly effective and very satisfying to do. Nearly all the knitters who've knitted an Elemental Hat have told me how much fun they are to knit, and that's such a great thing to be told!
This collection is a collaboration between Love Knitting and The Yarn Collective, can you tell us how that collaboration came about?
Through Carol Feller! I've worked with LoveKnitting for some time for various things relating to selling indie patterns on their platform, and they're a really progressive company. Whenever I get the chance to see Carol, usually at events, we always have a good chat and catch up, and I happened to mention these design ideas I had. Carol and I share common interests in knit construction and engineering of fabric, and she suggested to LoveKnitting that I use the yarn she curated for them for the collection – The Yarn Collective Bloomsbury DK (affiliate link)- and it went from there. It's gorgeous yarn and the colours suit the Hats *perfectly*.
What is the most challenging thing that you encountered while designing this collection?
Maintaining balance within the fabric. Getting those effective colourwork patterns AND making sure the panels all had the right numbers of rows at any given point wasn't easy. I gave myself eye strain after 6 works of staring at the monitor 😉
Balance in a piece of knitted fabric means that every stitch has to have the same number of rows so that it doesn't distort. Short row colourwork is generally used on shawls or cowls or otherwise flat pieces of knitting because incorporating 3 – dimensional shaping is a whole other level of manipulation, and as the Hats are sideways knit, that means the shaping is also done with short rows. It's not easy, but I really enjoyed the challenge. Once I'd got the system mastered the next challenge was making the solutions elegant… I can't tell you how many times I'd start one of the designs feeling that it would work, only to feel that the knitting didn't flow or felt clumsy or that somehow, that one little extra short row stripe made it feel inelegant. This took more time than anything, really. Incorporating the crown and brim shaping was the best fun because that's what adds that extra something and makes the knitter feel clever – it's really not obvious where the shaping is!
(I guess it's obvious how much I enjoyed working on the designs, huh? ;))
Do you have a favourite Hat within this collection and if so why?
Hmm… Toph was the first one that really felt like I'd achieved my goal; Katara was way more difficult than Toph (single stripes of colour that stop part way through a fabric provide an interesting engineering challenge in terms of balance) and Korra has a lovely flow to it. Azula was also tricky but required a slightly different perspective to the others and I was really pleased with how that one turned out. I don't think I can pick one, but I'm not surprised that Toph is the runaway favourite.
How do you overcome creative slumps?
I try to work through them, and because these designs had to be 110% calculated before casting on, I went back to the drawing board each time (most sideways designs are the same). As a rule, though, I work through a creative slump with my fingers. I'm a highly kinesthetic learner who does best by doing and being active, so I simply pick up needles and do something. A lot of the time there'll be half finished designs sat there and they may feel like a waste of time, but they've helped me decide what I don't want to do.
How do you think that Knitwear Design is evolving?
I think the evolution of Knit Design is evolving itself? I like now that there are many different paths that designers have successfully trodden for themselves. It doesn't have to be about lifestyle photography or selling specific stories or working with magazines or feeling that you have to be out kissed to gain name recognition. It can just be about what's on your needles and your style and how you like to make things. My 12th anniversary is just around the corner and in that period of times, I've seen so many changes! For me, it's always been about being who I am and talking to knitters. My blog, my social media – all places where I prefer to throw the rule book out and just get on with it (I never was very good at falling into line). Just do your thing, your way.
You are teaching a few of your popular workshops in the Scottish highlands in 2017.  What can we expect and are these your last teaching dates for 2017?
Yes, I'm teaching at Loch Ness Knit Fest! Sideways knitting, knitted circles and more – lots of fantastic workshops. I'm also teaching at a Yarn Story in Bath the weekend before LNKF and then in November, I'm at a Devon Sun Yarns retreat then a full weekend of sideways knitting at Purlescence in Oxford. I'm slowly reducing the number of workshops I teach as travel can be quite hard physically, so anyone interested should book a spot while they can.
How would you like to see craft promoted in the media?
Ooh – that's a tricky question. On one hand, we have the knitting granny stereotype (still) and on the other, we have the full lifestyle approach. Can the media start noticing that there's something in between? Focus on the skills, the maths, the history – all the benefits we're all aware of but the media is somehow oblivious to? You can also pick up the Bloomsbury yarn here and if you are quick you can nab them at sale price until midnight tomorrow. What Luck! 
________________________________
Thank you so much Woolly! I know you all want to rush over and pick up your copy of Elemental and you can do that here. If you would like to pick up the Bloomsbury DK you can do that here (affiliate link) and if you are quick there is a flash sale until midnight tomorrow! You can find Woolly over on her blog, Twitter, Instagram and Facebook if you would like to follow along in her design journey.
Don't forget to tag #woollywormhead for *any* Woolly Wormhead Hat knitting that you might be sharing on Instagram, Twitter etc. Sometimes #woollywormheadhats gets used, and that's cool, but this one is that bit shorter and more common. #elementalhats is the main tag for anything to do with the Elemental collection and some other tags Woolly uses a lot are:
#circledhats
#sidewaysknithatsftw
#sidewaysknithats
Thank you all so much for joining me and I will be back on Monday with some more crafty posts.
Best wishes for the weekend ahead!
xxx
*Please note that the Bloomsbury DK are affiliate links and they are the only affiliate links in this post. 
**All photography is under the copyright of Woolly Wormhead Photography cannot be used without expressed permission.