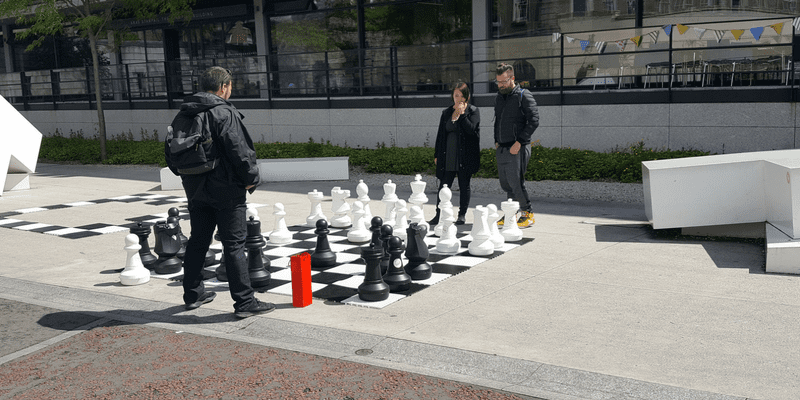 This June bank holiday I had the privilege of attending Bloom Fringe in Dublin Castle. I was expecting a fun outdoor experience where people came together and left inspired to try something new in their garden or whatever outdoor space they had. What I left with was something much more important than that. What I left with was a desire for change.
For those of you who have never heard of Bloom Fringe, it is Dublin's urban gardening festival that runs during the June bank holiday weekend. This year it took place in Dublin Castle and Wolfe Tone Square and the theme for the festival was Play in the Streets. On Saturday, the courtyard at Dublin Castle was filled with raised beds, giant outdoor games of chess and connect 4, areas for bug motels, plants and of course the odd handmade sheep. I was working in Powerscourt so I appeared early for the breakfast sessions and to fill some bags of soil with Hugh Cassidy before disappearing to sell some yarn. I expected to meet people, learn a few things and become inspired but what happened has stayed with me for days.
Bloom Fringe is run by three incredible women Ester Gerrard, Marrion Keogh and Roisin de Buitlear along with some amazing volunteers all armed with pure determination. The breakfast sessions started with a quick introduction by these three ladies and from the first two minutes of Ester speaking, something changed. Here I was, a women in my early thirties sitting listening to women who had exacted change in communities, permanent change in some cases. All I could do was sit and listen and thank Peter Donegan that he was recording these sessions.
These women did not have huge funding but they had built a community and at each Fringe event, this being their 4th year, this community grew. Much like the craft community that I am a part of, the online gardening community is amazing and it was incredible to meet people in real life. These people spend their everyday life bringing about real change by creating outdoor urban gardening spaces, some in areas that you would never expect.
Then I got to talk with Sara Venn of The Incredible Edibles from Bristol who had flown over to take part in the Bloom Fringe talks. This was another woman bringing about change in her community in a very real way. You can click the link to listen to what it's all about in detail in her Sod Show Podcast episode but in the two hours that I had to be with Bloom Fringe, these women had left me with so much to think about.  Sara spends roughly seventy percent of her time running Incredible Edibles where she does whatever is necessary to teach growing skills, enable people to be outside even in the urban environment and grow food that is accessible to all for free.  All of the gardens are made in lost and unloved spaces across the city, bringing those patches back into use, making them both productive and beautiful.
Why is this so inspiring to me?
These people bring communities together by putting outdoor games in spaces that are unused, encouraging people to pop out a window box, pop chairs in unused spaces and turning urban areas into green spaces for the benefit of all who come across them. These are simple things to do in most cases and for the time I spent at Bloom Fringe and from the coverage on Twitter, I could see that these things made a difference. I saw families playing outside together, people talking about hope and change in areas that are run down. In this one weekend, Bloom Fringe highlights this amazing community but there are people who do this all year round like Mud Island Community Garden off North Strand.
In all of these cases, these communities are run by volunteers who by donating their time, believe that they can bring change to their local environment and in doing so they have changed the lives of others for the better. Don't believe me? Keep an eye on the upcoming podcasts from The Sod Show. I listened to a father talk about the difference these communities have made to his daughter in the city. His words brought tears to my eyes.  These communities do make a difference at a time when people feel like they can't control what's happening in the world around us. The answer is you can. Get out, get involved and make a difference locally. If I have learned anything this weekend, is that real change is made by each one of us. Just one person popping out a window box or helping out in the community brings a difference to other people's lives in ways that you may never know.
You, your life and what you do with it, matters.
So my question to you is "What one small thing can you do to bring about change for the better?"
Yes, it's easy to stay at home and focus on our enormous to-do lists but by finding that 1 hour a week to do something be it walking in your local area and picking up litter, planting community flower boxes or joining in your local community gardens, you too can be the reason that you make a child smile or give someone hope. I will be helping out in gardens more and using my online talents to highlight communities and the need for change.
Please head on over to listen to Ester on The Sod Show Podcast here and keep an eye out on the Sod Show podcast for the Bloom Fringe recordings coming soon. To all involved in Bloom Fringe and local communities, my deepest gratitude goes to you.