This morning it's quiet and you can hear the birds singing around the cottage. This is the time of day that I love to plan ahead. If you have been following along with the podcast episodes then you have heard me mention this year's Tour de Fleece or TDF for short. I also mentioned that I recently took over as the PRO for the Irish Guild of Weavers Spinners and Dyers and combine this with a new spindle, a new wheel and that fabulous batt from Spin City UK above and I am one excited crafter.
If you want to come and join in with us for the month, I will be on the boards in the Cottage Notebook Ravelry group here and in the Guild Ravelry group here. If you have never picked up a spindle or fibre before and you don't know the difference between a top, a batt or roving then this is a perfect time to learn with all the support of the fibre community.
Tour de Fleece
The Tour de Fleece is a Ravelry driven event. It takes place from Saturday, July 1st to Sunday, July 23rd at the same time those famous cyclists are winding their way through France, the craft community takes up their fibre and we spin our wheels of a completely different kind. We also have challenge days, just like the course gets a little tough for the cyclists, we challenge ourselves to spin something a little out of our personal comfort zone. We also try to wear something yellow on July 23rd to announce our victory and trust me when you nail a chain ply for the first time or finally feel that perfect draft coming together, you will be shouting VICTORY!
The reason I love the TDF is that I rarely get to meet other spinners in person. This is about an online community coming together to push ourselves to work on a new skill or reach a personal goal and that can sometimes take a back seat in our lives. It's about being mindful and putting ourselves first for the duration of the Tour. There are always laughs and giggles along the way with dreamy plans of what the newly spun yarn will grow up to be.
So, come on and join in the fun. All you have to do is drop your name in any of the threads above to take part. Are you already part of a group? Then drop a link in the comment section or in the Notebook Thread so I can pop in and say 'Hi' and see how you are all getting on. If you need to pick up some fibre for the Tour, then I spied that Laura of Ellie & Ada, has just let her Fibre Cub go live this morning: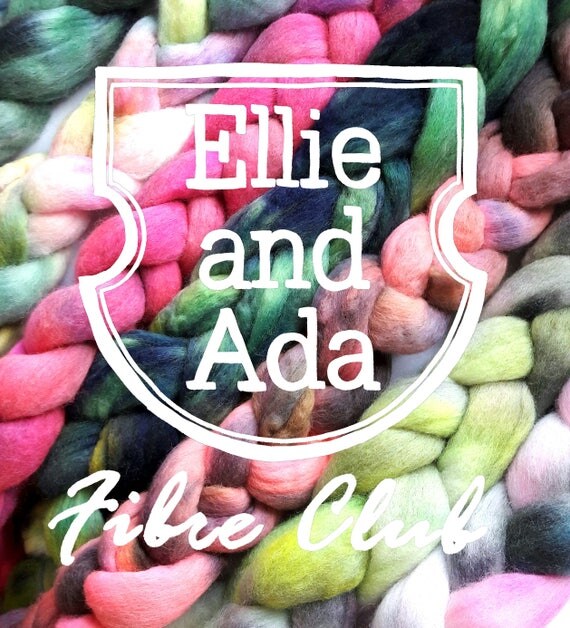 If you want to pick up a discount for Ellie and Ada then all you have to do is join the members-only section of the website here. What are you waiting for? Prep time is nigh, dust off those spindles and plan your personal goals for this July.